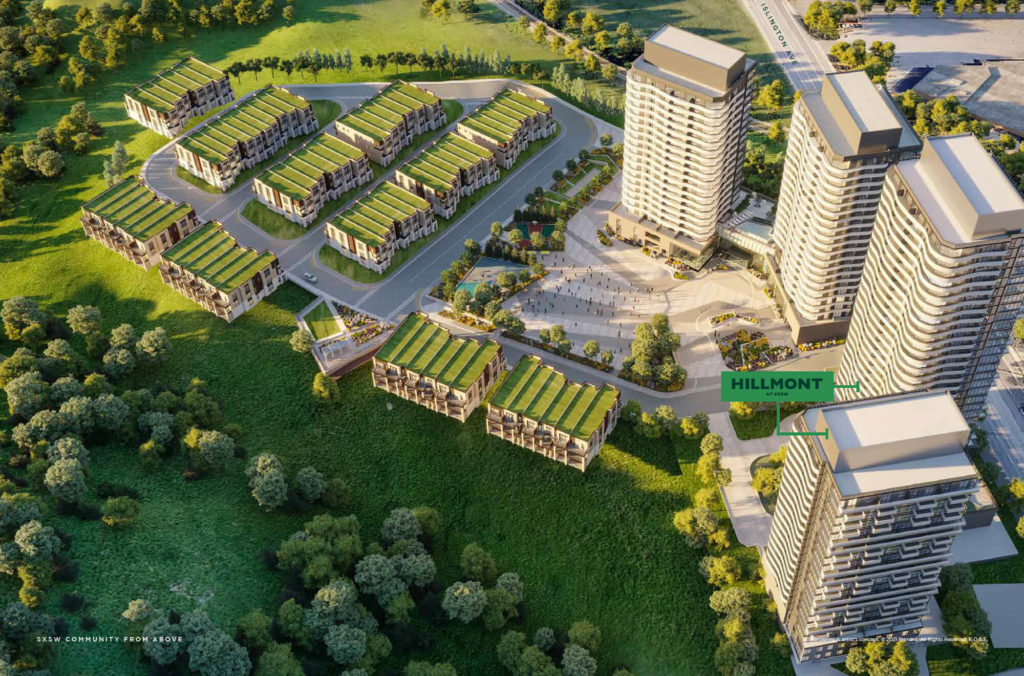 Hillmont at SXSW Condos is a new condominium development by Primont Homes currently in pre-construction located at 7082 Islington Avenue, Vaughan in the Woodbridge neighbourhood with a 30/100 walk score and a 64/100 transit score. Hillmont at SXSW Condos is designed by Quadrangle Development and will feature interior design by Figure3. Development is scheduled to be completed in 2025. ranging from 609 sq.ft to 1774 sq.ft. Suites are priced from $623,990 to $1,208,990.

Price Per Square Foot
THIS PROJECT
$992/sq.ft
NEIGHBOURHOOD AVERAGE
$912/sq.ft

The Hillmont Floor Plans & Prices
Total Floor Plans
31 (14 Available)
Price Range
$623,990 – $1,208,990
Avg. Price per Foot
$992/sq.ft
Suite Name
Suite Type
Size
View
Price
All prices, availability, figures and materials are preliminary and are subject to change without notice. E&OE 2020
Floor Premiums apply, please speak to sales representative for further information.

PDF Files for The Hillmont
Price List – The Hillmont Price list.pdf
Floor Plans and Brochure- The Hillmont Floor Plan and Brochure.pdf

The Hillmont Overview
Overview
Key Information
Location
7082 Islington Avenue Woodbridge, Vaughan
Regional Municipality of York
Development Status
Pre-Construction
Price Range
$623,990 to
$1,208,990
Suite Sizes
609 sq.ft to
1774 sq.ft
Avg. Price per Foot
$992/sq.ft
Locker Price
Included (1)
Mt. Fees ($ per sq.ft.)
$0.57
Deposit Structure

(20% + 1%)
$5,000.00 On Signing
Balance to 5% – 30 days
2.5% – 90 days
2.5% – 180 days
2.5% – 270 days
2.5% – 370 days
2.5% – 720 days
2.5% – 870 days
1% – Occupancy
Additional Information
Architect
Quadrangle Development
Interior Designer
Figure3
Height (M)
–
Height (Ft)
–
Data last updated: July 17th, 2021